HOW IT WORKS
Our Parent Participation Programs in Granite Bay are designed to promote physical, intellectual, and social growth in babies, toddlers and children ages 6-weeks to 4-years-old. Classes also offer the opportunity for parents to socialize.

PARENT PARTICIPATION CLASSES
We nurture your child's development through an array of cognitive, social, and physical activities. Your child will progress through our Brilliant Babies, Early Explorers, Little Learners, and Kindergarten Readiness programs as they grow and develop.

BENEFITS
We offer much more than a fun activity to participate in with your child. Children have a great time and parents discover how their child learns! Each activity and lesson is designed to promote intellectual, physical, and social growth. We also work on creativity and cognition of the world.
MUSIC & MOVEMENT
Ages 0-4 Years
We offer fun and educational music classes for babies, toddlers, and children. Early exposure to music has been shown to stimulate brain development in babies and preschool-aged children. Your child will participate in the magical world of song and melody through this family style class. With Growing Brilliant, they will move, dance, and sing along to interactive music and songs written especially for children. Both new and familiar music will encourage vocabulary growth and interaction. In each music class babies, toddlers, and children will also have a chance to explore an array of musical instruments.
BRILLIANT BABIES
Ages 0-1 Years
Babies and their caretakers will participate in an array of sensory experiences, designed specifically to stimulate the brain and promote physical development. Each Brilliant Babies lesson is unique and focuses on key areas of your child's development. Baby sign language is also incorporated into each lesson. The Brilliant Babies class can be taken alone or combined with one of our Music & Movement classes.
Early Explorers Program
Ages 1-2 Years
The journey of discovery continues as children develop social awareness and build friendships. Cognitive and motor development are enhanced as children have the space to physically explore their world. Learning centers and daily routines are introduced.
Toddlers & preschoolers will participate in an array of sensory experiences designed to stimulate the brain and promote physical development. Each class is unique and focuses on multiple areas of your child's development. To ensure optimal development, we recommend attending this class for a minimum of six months.
LITTLE LEARNERS
Ages 2-4 Years
Our Little Learners program is designed to expose preschoolers early on to the skills necessary for school. Numbers, colors, shapes, and letters are all introduced in engaging and unique ways. Preschoolers learn naturally through a multi-sensory approach. Song, dance, art, and movement all reinforce these important topics. Children also learn how to follow directions, share, and interact with others. Since one of our goals is to promote independence, this class requires minimal parent/caretaker involvement.
After participating in the Little Learners program, your preschooler will be ready for our full preschool program!
Granite Bay Class Schedule
Upcoming Holidays: (Granite Bay Parent Participation Classes Not in Session):
Labor Day Weekend: August 31-September 2
Veteran's Day: November 11
Thanksgiving Break: November 25-30
Winter Break: December 20-January 6*
Martin Luther King Day: January 20
President's Day(s): February 10 & February 17
Spring Break: April 6-13*
Memorial Day Weekend: May 23-25
Summer Break: TBD*
*Accounts will be prorated during Winter Break and Spring Break. Accounts will be put on hold for summer break.
Zach & Lisa Hansen
Owners
Zach and Lisa Hansen started Growing Brilliant in 2013 with their Rocklin location. Lisa holds a doctoral degree in education from the University of San Francisco. Lisa is a credentialed elementary school teacher and also has experience as a preschool teacher and reading specialist. Through her research, Lisa has learned that early experiences are directly linked to academic achievement later in life. She has a passion for early childhood development and believes in promoting lifelong learning.
Zach graduated from the University of Wisconsin-Parkside with a degree in business and marketing. His main focus is on the operations side of our schools. This allows Lisa to focus on creating exceptional classroom experiences and curriculum with our amazing staff!
"Our favorite part about Growing Brilliant is knowing that our daughter (and her classmates!) have the best possible early learning experiences. We absolutely love taking her to our Preschool Academy and Parent Participation classes. We feel blessed that we can share Growing Brilliant with so many other parents!"
Ms. Mackenzie
Parent Participation Program Coordinator
Hi, my name is Ms. Mackenzie! As a young child, I always knew when I grew up I wanted to be a teacher! My passion for teaching carried on through adulthood where I studied and got my degree in Early Childhood Education specializing in family and relationships.
I couldn't be happier to be a part of the Growing Brilliant team and to build so many lasting relationships with Growing Brilliant families. My goal is to positively influence the lives of children and members of my community each day. I am passionate about learning and helping to create life-long learners! I continue my work to inspire young children and help them grow to reach their full potential!
When I am not teaching I enjoy reading, the outdoors, and site seeing. I love life's adventures! I love animals and enjoy visiting the zoo!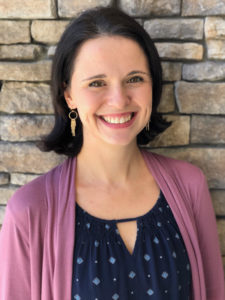 Ms. Debora
Parent Participation Teacher
Hi families! My name is Debora and I am beyond happy to be part of the Growing Brilliant family! I am originally from Brazil and I have a Bachelor's Degree in Journalism. I also have done photography, theater, dance and music courses throughout my life. Now, I am following my mother's path, teaching children and helping them learn and grow, while having fun!
Happiness is one of my priorities when I am around kids. If I see a boy or a girl happy and enjoying the moment, I know for sure that they are learning and feeling safe! I love the way that they express themselves and I am just grateful to be around all those beautiful families!
When I'm not with my family, you can probably find me taking photos of my beautiful girls, Maria and Sofia. Hope to see you soon!
GRANITE BAY PARENT PARTICIPATION GALLERY